I am always on the lookout for quick and cheap ways to decorate our home.
I have been loving the look of black and white art and wanted to add some to my office.
But again, I want to do this on no budget!
I have a print that used to hang in my son's room. I purchased it a few years back at the local Home Sense store for just over $20.
I love the look of a gallery wall and would love to work on one in this room.
I also had a frame that I had purchased a while back at the local Value Village.
I paid $3 for it and it had a Trisha Romance book page in it when I bought it.
The frame is a grey washed colour with white and blue-grey mats.
If you have never been to this site, you need to go. It offers great FREE printables!
If you can't find anything you like there, there are many sites like this one out there.


While searching on that site, Sloan our cat happened to walk by...so I thought why not search Black Cats and see what I come up with.
He is my baby after all and I thought that would be a great way to bring him into my office in a different way. Art that has meaning to you can bring great happiness to your home.
I have tried taking pictures of him, but because you can only really see his eyes
(his nose is black too!), it's hard to get a really great photo of him.
Except if you get one with his tongue hanging out!!
But I found one that looks just like him...that is if he were a cartoon!
Just like Sloan, you can only see the eyes - a perfect likeness of my fur-baby!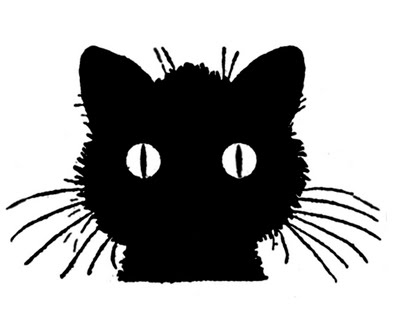 I printed it out and coloured in the eyes lightly with green and yellow coloured pencils.
Then I put it in my thrifted frame.
...and now it's hanging on the wall in my office area.
The perfect start to my gallery wall!
Sorry for the bad picture...the lighting in this room is not the best and it's a grey and snowy day here today. The reflection of the window isn't helping either.
Stay tuned for further developments on this gallery wall!!
I'm sure it will include other cheap art projects!
Cheryl
Linking up @"